KEY SIGNS OF A HEALTHY RELATIONSHIP
Over the years, many people have said to me, "Lists exist out there of warning signs of an abusive partner – which is good to have – but what are the signs of the opposite? How do I know when I'm in a healthy relationship?"
Here are some ideas about that:
* You each care about the other one's needs and wishes.
* You trust each other to use good judgment.
* You seek out help when needed, e.g. looking into relationship counseling melbourne services, or ones similar.
* You each want endlessly to get to know the other.
* You each support the other toward that person's dreams, and you each wish for the other to succeed in building and enjoying the life they want.
* Sexuality is mutual and satisfying.
* The relationship supports the things that mean most to you, whatever they may be. This includes that the relationship supports your other closest relationships rather than driving you away from them.
* You want to spend a lot of time together, but not every second.
* You both have the potential to understand the differences between Physical vs. Spiritual Love for each other.
* You each accept responsibility for your own actions. You're responsible for what you do, but not for what the other person does.
* You can be angry with each other without being demeaning or intimidating.
* There is gentleness and kindness and physical affection. Sex isn't the only caring touch.
* There is rough equality of work and effort.
* You are each managing your own life and not trying to manage the other person's or get them to manage yours.
* You laugh together.
* You are able to plan and project into the future together (financially, living arrangements, children, vacations)
* You are monogamous except by explicit and mutual agreement to do otherwise.
* You each have friends that matter to you, and you support and value each other's friendships.
* Each of you respects the other's boundaries.
* Neither of you tells lies to the other or keeps secrets that could affect the other person's well-being or that involve things that the other person has a right to know.
I'd love to hear your additions to this list!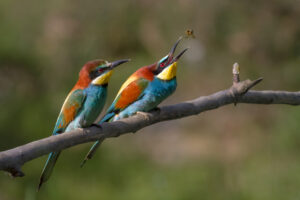 Photo by Pierre Dalous – Own work, CC BY-SA 3.0,