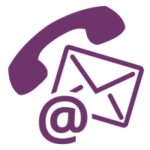 Lundy receives far more phone calls than he is able to return. He does not have an office assistant. If you call and do not receive a return call, it's probably due to one of the reasons explained below. You can save yourself the frustration of an unreturned call by reading all the information below first.
If you are calling to inquire about the possibility of scheduling a speaking engagement with Lundy, including rates, topics, and availability, please click on the "Public Speaking" tab for more information and for the correct number to call.
---
Lundy cannot respond to inquiries regarding services for abusive men or for abused women, nor does he provide any services directly. Please see the following information:
Lundy does not have a national directory of programs for abusive men, and cannot provide referrals to local programs. People who are seeking services for men should call their nearest program for abused women, and ask that program for a referral to an abuser program for men. (Some of these programs also offer services for abusive lesbians or gay men.) Abused women's programs are in the best position to evaluate which abuser programs (also called Batterer Intervention Programs) are of the highest quality, safest, and most victim-advocacy oriented.
For more information on how to evaluate the quality of an abuser program, see Lundy's web article "Assessing and Monitoring Programs for Men Who Abuse Women".
Psychologically abusive men need the same type of program that physical abusers do. Be aware also that most abusive men who claim that their abuse is strictly verbal or psychological are denying times when they have made threats, used forms of violence such as grabbing, poking, or shoving, have coerced the woman into unwanted sexual contact, or have deliberately put her in fear through physical intimidation. 
Lundy does not have a national directory of services for abused women or for their children. If you need help finding your local services, call the national domestic violence hotline at (800) 799-SAFE, which will direct you to your nearest program. That program is also your best source of information about services for children, including therapists for children.

---
If you are looking for assistance with matters related to child custody and child protection:
Lundy works with a team of excellent volunteer advocates who return as many calls as possible that Lundy receives regarding child custody and child protection. Child custody courts and child protective services across the continent are severely biased against mothers, are highly irresponsible regarding domestic violence perpetrators,and are sometimes corrupt. We are well aware of this problem and are trying everything we can think of to get this problem addressed.
Before calling us regarding child custody, it's important to do the following:
Go to the "Child Custody Justice" page of this website and read all of the information there carefully. This section contains much of what we'll be able to tell you over the phone.
Look over the "Child Custody, Divorce, and Child Support" section of the Resources page of this website, to see what additional resources you could draw upon.

---
Lundy no longer provides expert testimony. He is available on a limited basis for legal consultation.
---
If you have read the above information and you still wish to leave Lundy a message, you can do so at  (413) 582-6700. Calls regarding public speaking will typically be returned in 1-3 days. If you are calling about child custody or child protection, we will do our best to have a member of our Child Custody Team call you back soon. Due to the volume of calls Lundy receives, most other calls and emails will not be returned, but Lundy is always happy to hear from you nonetheless.